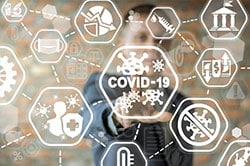 On April 3, 2020 IRCG Managing Partner Mike Marks and Modern Distribution Management CEO Tom Gale co-hosted an event on how COVID-19 is impacting distributors. This two-hour discussion featured an expert panel to learn about the impacts of the COVID-19 pandemic on distribution customers, suppliers, operations and teams.
The following confirmed distribution leaders joined the panel discussion:
David Manthey – Senior Research Analyst, Baird
Julia Klein – Chairwoman & CEO, C.H. Briggs Company
Jason Kliewer, Managing Director, Distribution, Baird
Nick Troyer – Director, Distribution, Baird
John Gunderson, VP Sales, Analytics & E-Business, MDM
Our focus is on the industry outlook, competitive landscape, financial strategy and keeping the ship afloat through the COVID-19 cycle.
This webinar is part of a weekly series from MDM LIVE, connecting with distribution leaders to share how they are addressing the impact of COVID-19, what they are hearing from customers and how they're planning for the future.