Keys to Market Access, Part 2: What Are Your Customers Buying?
Written by Mike Marks, Steve Deist on Tuesday, 31 March 2015. Posted in Business Strategy, Distribution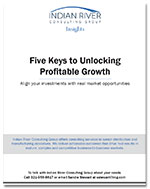 A market access strategy provides a framework for distributors to align their investments with real opportunities for growth. This blog is the second of five looking at the five keys to unlocking profitable growth.
The second key to a successful market access strategy is to provide different levels of service to different customer segments.
Step back and think not about what you're selling but what your customer is buying. The customer wants to look good to his boss. He wants to increase profitability and reduce hassles. And there is no company today where time is not a critical constraint; everyone is doing more with less.
Despite the differing level of value customers ascribe to the services provided by wholesaler-distributors, distributors often offer the same level of service to everyone.
Some customers are price-conscious and whichever source offers the lowest price gets their business. Other customers value product availability, extended credit terms or the ability to procure most of their needs from a single source. Does your sales support change based on what the customer needs? If it doesn't, the sales team may have an impact on some customers but very little, if any, impact on others.
Segmenting your customers based on what drives them helps you identify how you can align selling resources so that their needs are met at the lowest cost to you. Do sales reps primarily fill demand that already exists or do they create demand by, for example, showing customers how a product or service can improve productivity?
Most companies that complete an analysis of their customers' buying preferences will find that some of the accounts assigned to an outside sales rep can have their needs met by a lower cost function such as the Web or inside sales. In most cases, this actually results in better customer service and improved sales coverage in the eyes of your customers.
A market-based sales model that incorporates specialized roles is more efficient and effective, especially when backed up by real strategy, effective sales management and solid analytics.
The next blog in this series will examine why analyzing activities in addition to result is a key components of improving your access to growth.
About the Author
Steve Deist has been a IRCG Partner for six years. He has over 20 years of experience working for hundreds of distributor, retail, manufacturer and private equity clients in dozens of lines of trade. He is a highly rated speaker, a permanent University of Industrial Distribution faculty member and a distribution company board director.
Steve has extensive knowledge of the distribution and supply chain space, with substantial experience in retail, construction and industrial channels. This experience includes:
Strategy, sales effectiveness, operations, supply chain, marketing and technology projects for over 100 organizations over the past 10 years. These clients have ranged in size from $5M family run businesses to Fortune 500 corporations.
Numerous marketing channel projects for top tier manufacturers which sell through dealers, distributors, retailers, etc.
Frequent industry speaking engagements for clients including, trade associations and manufacturers on a broad range of subjects. These engagements have included workshops, technical sessions for management level audiences, strategic sessions for executive level audiences and keynote speeches.
Due diligence and related projects for top tier private equity firms.
Steve is IRCG's strategy guru, focused on helping companies achieve lasting competitive advantage. His hands-on approach enables him to apply leading edge concepts to the practical realities of daily business.
Prior to joining IRCG, he was director of consulting services at a major supply chain software vendor. Steve's thought provoking articles appear frequently in premier industry publications such as Modern Distribution Management. Steve has authored three books published by NAW (The Five Fundamentals for the Wholesale Distribution Sales Manager, Value Creation Strategies for Wholesaler-Distributors and the upcoming What's the Right Plan? Effective Sales Incentive Design for Wholesaler-Distributors).
Mike Marks co-founded IRCG in April 1987. He began his consulting practice after working in distribution management for more than 20 years. Over the years, his narrow focus in B2B channel-driven markets has created an extensive number of deep executive relationships within virtually every business vertical in construction, industrial, OEM, agricultural, and healthcare.
Mike has led project teams that improve market access by aligning resources to growth opportunities serving manufacturers, dealers, and distributors. Clients have ranged from small privately owned firms to many of the industry's market share leaders. Ownership structures have included owner-operators, private equity, ESOPs, and publically traded firms. Mike is proud of the teams work and the confidence clients have shown with additional project work.
He has written extensively, and is frequently quoted on many industry issues. He has substantial board experience on both public and private distribution firms. His contributions to the field include serving multiple terms as a Research Fellow with the National Association of Wholesaler-Distributors, permanent faculty at Purdue University's University of Industrial Distribution, eight years as Graduate Adjunct Faculty in the Industrial Distribution Program at Texas A & M University, and rendering several precedent-setting expert opinions in contract disputes between manufacturers and distributors.
Prior to forming IRCG, Mike held the position of Executive Vice President at Lex Electronics, an $800 million vertically integrated electronics distributor in Stamford, CT. Mike's path to management in his early career was through increasing responsibilities in sales and sales management. He also completed a tour of duty as a manufacturer's representative.
This email address is being protected from spambots. You need JavaScript enabled to view it. | https://www.ircg.com/