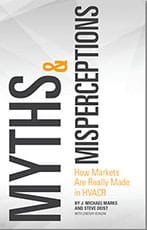 Indian River Consulting Group partnered with the Heating, Air-conditioning and Refrigeration Distributors International to publish a book based on the research they conducted for the association: Myths and Misperceptions: How Markets Are Really Made in HVACR.
In the book, Indian River Consulting Group shared the results, exploring how customers in the HVACR industry choose both their brands and suppliers, and why customers ultimately switch. Their answer challenged many conventional industry beliefs. Mike and Steve provide powerful yet practical recommendations in the new book that manufacturers and distributors can put to use immediately.
This book will make you think differently about how you align your company with the best market opportunities for growth.
Get your copy of the book from HARDI.
Give IRCG a call today at 321-956-8617 to talk about how you can more effectively deploy your sales and marketing resources. Or contact us now.