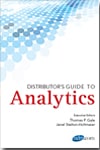 Indian River Consulting Group Partner Steve Deist is featured in the new MDM compendium, The Distributor's Guide to Analytics.
In his chapter, Steve helps readers understand the impact that data can have on a wholesale distribution company when it deploys the sales team more effectively and properly aligns resources with market opportunities.
But distributors have to go beyond just numbers. He writes: "Numbers don't add up to a plan. For distributors, the how-to plan will inevitably involve the sales force, which is usually the biggest single expense category and the most powerful competitive weapon – indeed, the heart of most distributor organizations."
His chapter in the book, "Market Access Analytics: Use Data to Deploy Sales & Marketing Effective," is about translating analytics into action on the front lines.
Get your copy from Modern Distribution Management.
Give IRCG a call today at 321-956-8617 to talk about how you can more effectively deploy your sales and marketing resources. Or contact us now.