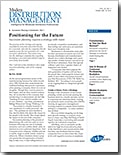 Over the past couple of months, a series of articles from IRCG Partner Steve Deist has appeared in Modern Distribution Management's premium newsletter for wholesale distribution executives.
In the series – The Use and Abuse of Customer Profitability Analytics – Steve presents some of the most common business mistakes distributors make when deploying customer profitability tools. He wraps up the three-part series with a look at how improved market access can drive long-term growth in both a distributor's profitability and its market share.
Subscribers can access the articles starting with Part 1 at the MDM website.
Give IRCG a call today at 321-956-8617 to talk about how you can more effectively deploy your sales and marketing resources. Or contact us now.