Each week, we track a snapshot of year-over-year distributor revenue with our Pandemic Revenue Index (PRI). The sample size for the week of June 15-19 is 10 firms — the same as last week.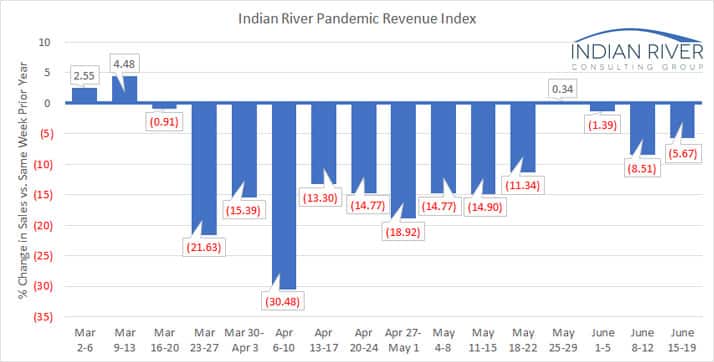 It appears that the index may be settling into a new phase, with sales this week 5.7% below the same week in 2019. After bottoming out at the beginning of April, a six-week period followed with declines in the mid-teens. The index finally got back into the black (barely) at the end of May. Now, we appear to be settling into a period of sales declines in the mid-single digits. Of course, the situation is relatively dynamic but let's hope the worst is behind us.
There remains a fair amount of sales volatility among the distributors participating in the index. This week, six of the 10 distributors saw improvements relative to last week. However, of the six, five were coming off weeks that were worse than the previous week. So, there is some see-sawing going on with good weeks followed by bad weeks.
Thanks for following along with us as we analyze the impact of this pandemic. As we collect more data, we will continue to share patterns as they emerge.
We would still like to increase our sample size for this PRI and are asking you to consider helping the industry through these uncertain and unprecedented times. If you're interested, please reach out to Mike Emerson at memerson@ircg.com.