This week's index will be the final one published by IRCG. We started the Pandemic Revenue Index (PRI) in March of 2020 and we've published it for 50 straight weeks. Our goal was to provide a contemporaneous view on prevailing business conditions as the coronavirus began disrupting business.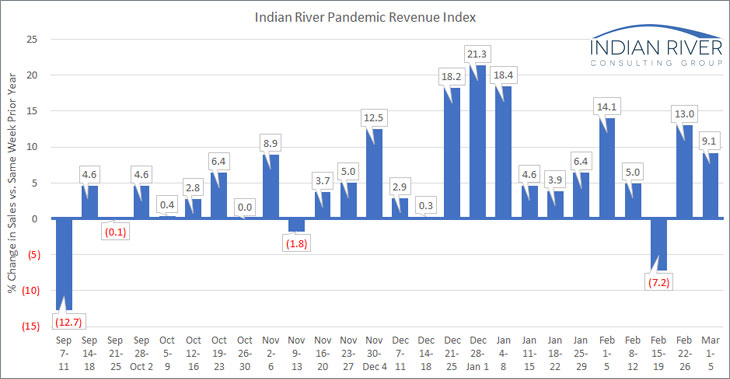 Publishing the index has been testimony to the wholesale distribution industry's incredible resiliency. The index bottomed out the week of April 6 with an average sales decline of just over 30%. During the spring of 2020, the index saw nine straight weeks of double-digit declines. Since that nine-week period, the index has seen a grand total of two weeks where average declines were double-digits, the most recent being the week of September 7 (which was influenced by Labor Day).
The index finishes on a high note with a weekly sales increase of 9.1%. Seven companies reported increases and six reported declines.
Most of the 13 distributors that participated in this week's index have been submitting data religiously from day one. A few have joined along the way. To all that have contributed, thank you! It has been a pleasure putting this together and here's hoping we never have to do it again!