Providing the Best Professional Presentations in Distribution and Manufacturing
"In reviewing our meeting evaluation, you are once again our highest-rated presenter. In fact, I would say you are probably our highest-rated presenter of all time."- Association Executive commenting on a presentation by Managing Partner Mike Marks
Indian River Consulting Group's deep industry knowledge and innovative consulting work translate into highly valued, content-rich presentations. We provide speaking services for distributors, manufacturers, trade associations and service providers such as software vendors and marketing groups. We support a wide variety of formats, including keynote speeches; break-out groups; panels; workshops; and sales meetings.
We tailor each speaking engagement to our clients' needs and to the target audience. For an even more personalized experience, we also offer an industry assessment and keynote package which includes surveys and interviews of your target audience and a presentation addressing the real challenges and opportunities facing their businesses.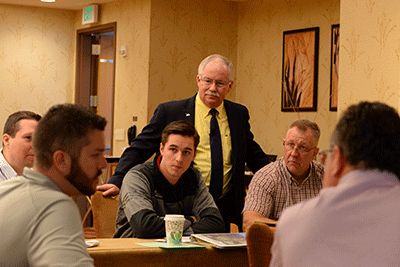 Sample Presentation Topics
Industry trends and innovation
Finding growth from new markets and customers
Sales force compensation
Strategic planning
Sales effectiveness
>>For detailed sample topic descriptions, as well as a list of past speaking clients, download Mike Marks' speaker profile.<<
Mike Marks, Professional Speaker and Consultant
Mike Marks began his consulting practice in 1987 after working in distribution management for more than 20 years. As co-founder and managing partner of Indian River Consulting Group, he has led clients - ranging from small firms to industry market leaders - to improved market access by aligning their resources to growth opportunities. In addition to extensive experience as a professional speaker, Marks has substantial board experience with both public and private distribution firms, and he has served as a Research Fellow and faculty member for the National Association of Wholesaler-Distributors and Purdue University.
Watch the video below for highlights from some of Marks' past presentations:
>>For more presentation highlights, read our webinar-inspired blog posts.<<