Stress testing is a means to measure the resilience of a business when subjected to unexpected shocks that force operation well outside what would be considered operational limits. There are three variables that produce a wide, and sometimes unexpected, range of outcomes.
What is the range of revenue or margin declines that are low probability but conceivable? Indian River uses a client selected range that goes down to a 60% decline.
How long will the test conditions continue and how will they return to 'normal' operating limits?
How comprehensive is the cost reduction program and how effectively is it executed?
Most firms develop their cost reduction plans in tiers that are triggered by progressively worse operating conditions.
Indian River Consulting Group Pandemic Revenue Index (PRI)

The distributor Pandemic Revenue Index provides a qualified weekly view into how other distributors are doing with respect to revenue declines as the pandemic progresses. The PRI is based on a sample group of distributors that have agreed to share their weekly sales data with Indian River Consulting Group to provide this resource to the industry. Here is the latest data: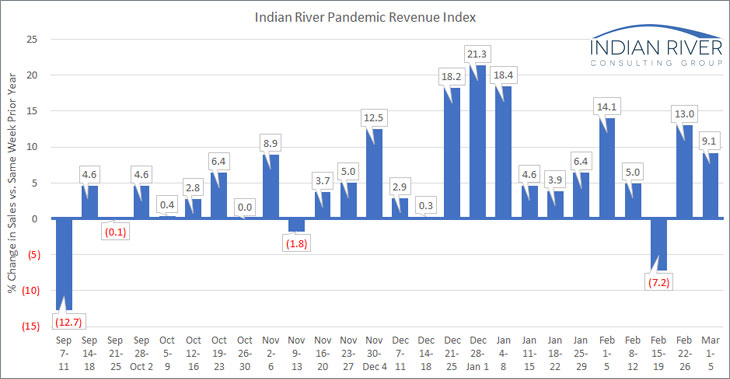 Click to view latest weekly results
Weekly Pandemic Review Index Updates
Video: Stress Test Your Business in Times of Crises
Resources on Business Stress Testing
This kind of business issue has been a core part of our consulting business for decades. Often, it was getting a distributor out of financial challenges when they still looked fine from the outside. This page and the content that it will eventually contain is part of our payback to our industry for supporting us over the years.

See resources linked on the right.
Access the recording of the recent live discussion with MDM on the impacts of COVID-19 on distributors.

Expect more, including the following, in the coming weeks:
We will be doing webinars on how to stress test a distribution business. They will be recorded and available in the public domain for anyone interested after April 3.
Questions? Reach out to us today.