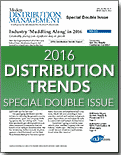 IRCG Managing Partner Mike Marks recently contributed his insight on how distributors can succeed in today's up-and-down climate in the newly released 2016 Distribution Trends Report from mdm.com:
"The world continues to change at an accelerating rate, and we're dealing in new things. Success is going to be about doing new things, not doing the same old things better. That's where people are stuck."
It's time to look for and implement fresh ideas based on what's right for your company and the markets it serves. Don't be reactive; be proactive.
Read the full report at mdm.com.
Where is your company headed next? Invite IRCG to your next executive conversation. Call 321-956-8617 or email info@ircg.com to learn more.