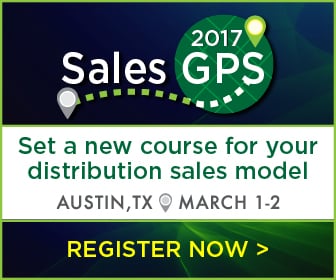 Many field sales reps have been doing things the same way for decades, despite the forces of change in the distribution industry. The function has been largely self-directed, with salespeople typically making their own decisions about how and where they go to market.
Distributors must shift to a management-directed sales model.
What does this mean?
It means that distributors need to be more selective in how they deploy the most powerful and expensive sales tool they have: the field sales rep.
A management-directed sales force aligns selling resources so that customer needs are met at the lowest cost. When working with distribution companies, we usually find that more than 20 percent of accounts assigned to an outside sales rep can be moved to another lower-cost function, such as inside sales. The goal is to narrow the role of the field sales rep to one that is focused on new business development and demand creation. This might also result in the creation of new specialized selling roles, such as a product specialist.
When analyzing your customers' needs and whether you can shift resources, consider geography, market segment, service output, amount of travel required and so on. Also look at whether your sales reps are primarily fulfilling demand that already exists or creating demand by showing how a product or service improves productivity or shaves costs.
This isn't simple. In many cases, this analysis will uncover a need to overhaul your sales structure.
If you're ready to move forward, join us March 1-2 in Austin at Sales GPS 2017, a distribution conference we're co-hosting with MDM on the changing role of field sales. Learn more about the conference.
Watch this video to learn why and how the role of field sales must evolve: