Each week, we'll be tracking a snapshot of year-over-year distributor revenue with our Pandemic Revenue Index (PRI). The sample size for the week of June 1-5 is 10 firms, which is the same as last week.
After our first non-negative week, the index has again shown a sales decline with sales dropping 1.4% compared to the same week in 2019. We now have two consecutive weeks where sales are hovering around flat after nine weeks of double-digit declines.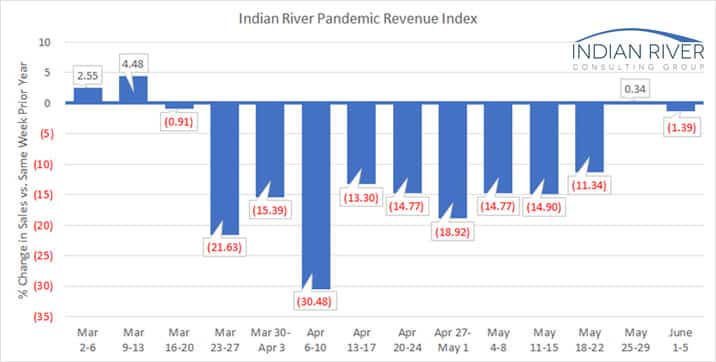 While two points does not make a trend, we're considering the external circumstances where states are loosening restrictions on business activity. That, plus a surprising jobs report for May, just might signal that we've turned the corner on phase one.
Trending activity
After collecting data for 11 weeks now, we have seen some trends emerge. The distributors that seem to be suffering the greatest losses are those whose customers are unlikely to be considered essential businesses, per state and local definitions, and those more focused on maintenance repair and operations (MRO) markets. This would make sense as businesses that aren't open aren't buying products. With general output down, there is less need for repair and maintenance products.
As we collect more experiences, we will continue to share patterns as they emerge.
Note: We would like to increase our sample size for our Pandemic Revenue Index and are asking you to consider helping the industry through these uncertain and unprecedented times. If you are interested, reach out to Mike Emerson, at memerson@ircg.com.