Each week, we track a snapshot of year-over-year distributor revenue with our Pandemic Revenue Index (PRI). The sample size for the week of June 8-12 is 10 firms, which is the same as last week.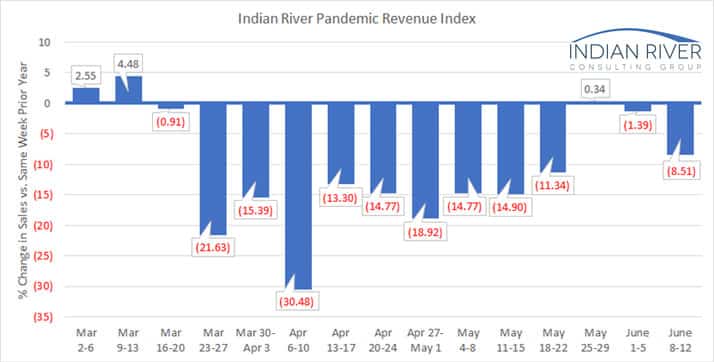 After seeing the index rise from its depths in mid-April to being relatively flat for the last two weeks, the index showed a decline this past week, with sales dropping 8.5% compared to the same week in 2019.
On the bright side, the decline is smaller than any of the weeks between late March and mid-June.
Half of the distributors in the index saw improvements over the previous week, but the declines from the other half outweighed those that increased. The swings in business this week were very large — much larger than what we've typically seen previously. The largest swing versus last week was 34% and the average was 13.4%. With this level of volatility, we can't be certain where things are headed.
Thanks for following along with us as we analyze the impact of this pandemic. As we collect more experiences, we will continue to share patterns as they emerge.
We would like to increase our sample size for this PRI and are asking you to consider helping the industry through these uncertain and unprecedented times. If you're interested, please reach out to Mike Emerson at memerson@ircg.com.