Each week, we track snapshots of year-over-year distributor revenue with our Pandemic Revenue Index (PRI). The sample size for the week of June 29 – July 3 is 10 firms, which is the same as last week.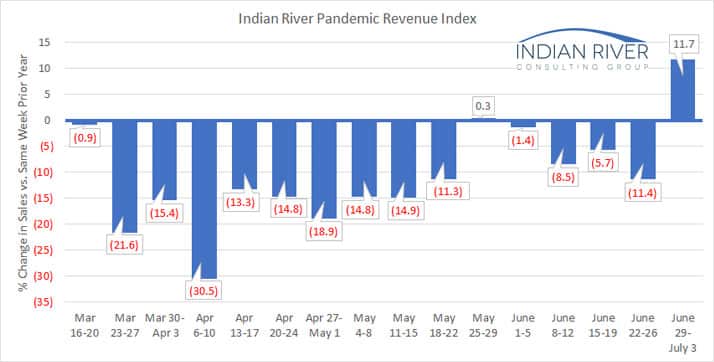 This week's index shows an increase in sales of 11.7% compared to the same week in 2019. This is a significant departure from what we've seen in previous weeks. The reason for the large increase is very likely due to Independence Day falling on a Saturday this year versus a Thursday last year. In 2019, from a practical perspective, there were three selling days in the week and four this year. That said, we'll have to see what happens next week.
Six participants posted gains this week, with two in the neighborhood of 50%. Eight out of 10 showed improvements relative to last week.
Thanks for following along with us as we analyze the impact of this pandemic. As we collect more experiences, we will continue to share patterns as they emerge.
We would still like to increase our sample size for this PRI. If you're interested in helping the industry through these uncertain and unprecedented times, please reach out to Mike Emerson at memerson@ircg.com.