Each week, we track snapshots of year-over-year distributor revenue with our Pandemic Revenue Index (PRI). The sample size for the week of July 6 – 10 is 10 firms — the same as last week.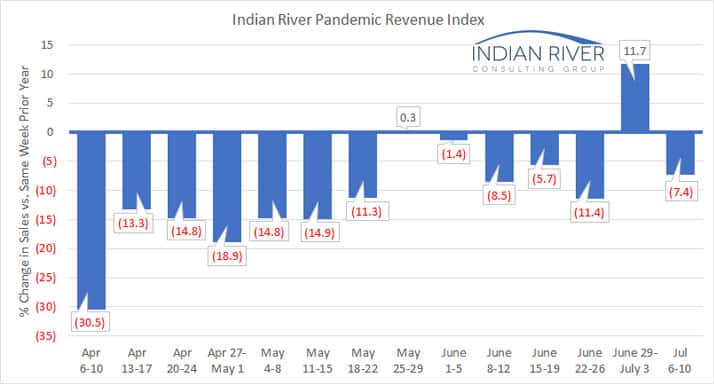 This week's index shows a decrease in sales of 7.4% compared to the same week in 2019, which represents a return to values seen in June after last week's holiday-driven anomaly increase. Last week aside, there appeared to be some stabilizing both of the index and of its component companies.
The index seems to be settling in to declines in the mid-single digits. Most participating companies are also showing consistency from week-to-week and not the dramatic swings we saw back in April.
Three participants posted gains this week, while only one posted a decline greater than 20%. Although the index is showing stability, the situation around the country is far from it as lockdowns are starting to remerge.
Thanks for following along with us as we analyze the impact of this pandemic. As we collect more experiences, we will continue to share patterns as they emerge.
We would still like to increase our sample size for this PRI. If you're interested in helping the industry through these uncertain and unprecedented times, please reach out to Mike Emerson at memerson@ircg.com.