Each week, we'll be tracking a snapshot of year-over-year distributor revenue with our Pandemic Revenue Index (PRI).
We would like to increase the sample size and are asking you to consider helping the industry through these uncertain and unprecedented times. If you are interested, reach out to Mike Emerson, at memerson@ircg.com.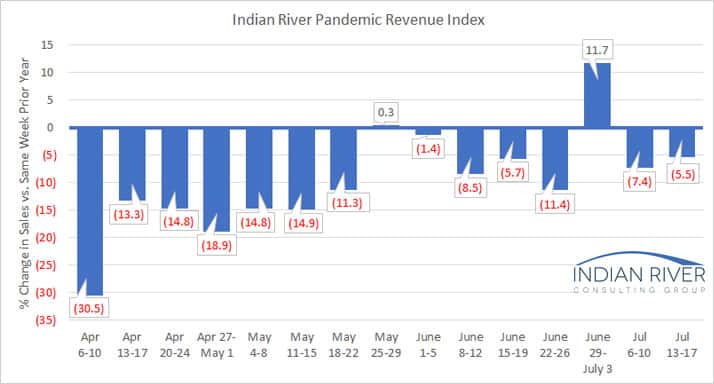 The sample size for the week of July 13-17 is 10 firms, which is the same as last week.
This week's index shows a decrease in sales of 5.5% compared to the same week in 2019, which means we've now gone eight weeks with only one showing a double-digit decline. The plateauing trend with mid-single-digit declines continues, at least for now. Three participants posted gains this week while only one posted a decline greater than 20%, which mirrors last week, although the specific companies were not the same.
It will be interesting to see how things play out over the next few weeks. Unless legislation is passed, the federal stimulus that has been supporting the economy to some degree will have fundamentally tapered off while the effects of the pandemic on society at large do not seem to be improving in many parts of the country.
Thanks for following along with us as we analyze the impact of this pandemic. As we collect more experiences, we will continue to share patterns as they emerge.