Each week, we'll be tracking a snapshot of year-over-year distributor revenue with our Pandemic Revenue Index (PRI).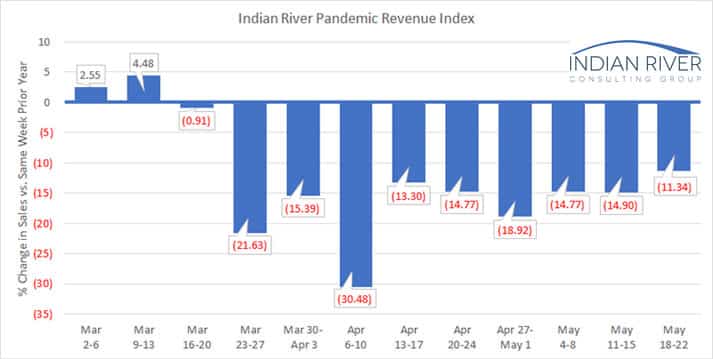 This week's index shows a sales decline of 11.4% over the same week in 2019. The sample size for the week of May 18-22 is ten firms, which is the same as last week. We now have nine weeks of double-digit average declines. The 11.4% decline represents the smallest decline since mid-March.
Furthermore, the declines of nine of the ten companies in the index were smaller this week than last week. The largest decline this week was 33% while one company actually saw an increase over the prior year.
With the lifting of stay-at-home orders occurring to some degree in all 50 states, it will be interesting to see if next week's sales trend improves on this week's trends. It will also be interesting to see if there are any patterns within the index over the next few weeks.
Thanks for following along with us as we analyze the impact of this pandemic. As we collect more experiences, we will continue to share patterns as they emerge.
We would like to increase the sample size for our PRI and are asking you to consider helping the industry through these uncertain and unprecedented times. If you are interested, reach out to Mike Emerson at memerson@ircg.com.