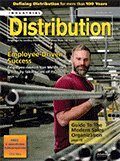 IRCG Partner Mike Emerson's article on the downsides of using Activity Based Costing (ABC) as the basis for a net profit-driven sales compensation plan is featured in the latest issue of Industrial Distribution magazine.
"Over my 20 years of working with distributors, I have seen the output of many ABC models," Emerson writes. "Without exception, there are transactions, customers and even product lines that are reported as unprofitable (expenses exceeding gross profit). This is the core of the issue. If salespeople are paid based on net profit, the easiest way for them to increase net profit (and thus, grow their income) is to eliminate those unprofitable sales. Yes, reduce sales to increase profit."
This is a dicey strategy, Emerson contends, given that it requires real expenses (not allocated) to decline at a rate equal to or greater than the rate at which gross profit dollars are declining.
But there is a better approach, and he offers his take on how to incorporate key profit drivers into a sales compensation program without taking the full net-profit plunge.