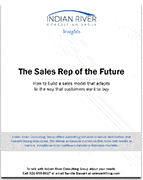 As you may have heard, Indian River Consulting Group has partnered with MDM to present Sales GPS 2017 on March 1-2, 2017, a live event focused on transforming your traditional outside sales model to one that is more responsive to rapidly changing customer needs.
To give you a taste of the event, we've put together a new whitepaper: The Sales Rep of the Future, now available for free download.
In it, learn how to start building a sales model that adapts to the ways that customers want to buy by:
Shifting from a self-directed to a management-directed sales force.
Understanding what customers are really buying.
Understanding the role of field sales in demand creation.
Letting marketing drive your sales efforts.
Download the whitepaper now, and give us a call at 321-956-8617 or email info@ircg.com if you have any questions.