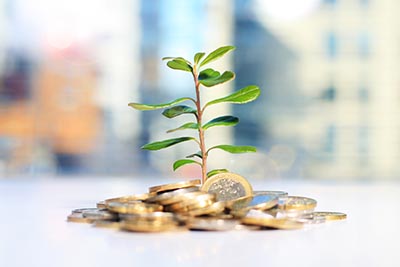 An ineffective sales compensation program can significantly erode a distributor's profits. Occasionally, this is realized on the expense side when sales wages paid are well above market. But more frequently, profit erosion from a misaligned sales compensation program is due to unrealized sales.
Most sales compensation programs make mistakes in one of two areas:
They provide insufficient rewards for meeting goals in line with desired company objectives
They over-compensate for the wrong results
Most companies that suffer from misaligned sales compensation programs are well-aware of the challenges they face, but they are either unwilling or unable to fix it. Those that are unwilling view the benefit of changing their sales comp programs as being outweighed by the risks. Distributors that are unable to make a change however suffer from the lack of a better alternative.
How We Can Help
Indian River Consulting Group's process overcomes the two primary reservations distributors have around changing their sales compensation programs. And thanks to our years of experience, we know how to best mitigate the risks of change. We involve sales representatives in the process, and have developed sophisticated modeling techniques to avoid miscues that can arise from unforeseen scenarios.
For companies that know their sales compensation program is not optimal but are unsure what to do next, our approach breaks the redesign into three key questions. The answers provide a framework for an aligned sales compensation program and will help balance risk and reward along with the proportion of income that should be objective-driven versus volume-driven.
Over the past quarter-century, Indian River Consulting Group has redesigned sales incentive programs for hundreds of distributors in dozens of industry verticals. Our experience and research contribute to our strongly held belief that there is no silver bullet or universally "best" program.
Instead, we take a company-by-company approach to design the best plan in line with a company's future. Thanks to our knowledge of incentive mechanisms, organizational dynamics, wholesale distribution industry trends, and proven implementation strategies we can be a valuable contributor to any incentive design project team.
Give us a call today to learn more: 321-956-8617
Download our latest articles on sales compensation: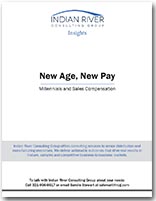 New Age, New Pay: Millennials and Sales Compensation
Learn how Millennials view traditional sales compensation programs and what that means for your business. Read now.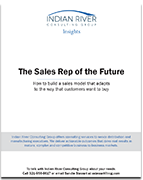 The Distribution Sales Rep of the Future

5 ways you can build a sales force that is responsive to changing customer needs. Read now.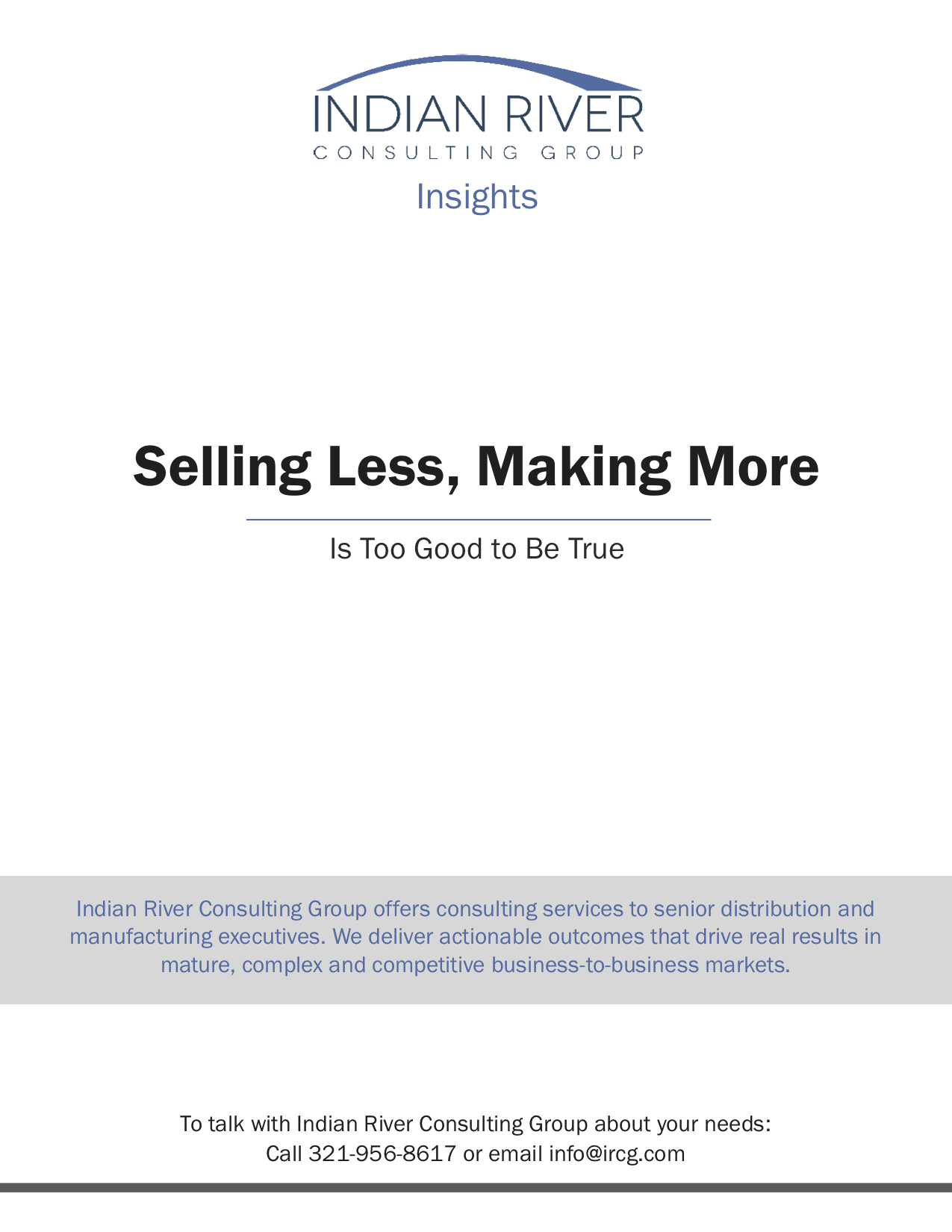 Selling Less, Making More is Too Good to be True
I have seen firsthand the value a good Activity Based Costing (ABC) model can bring to a distributor. A well-designed model can provide powerful insight on profitability drivers and provide useful inputs when making strategic decisions on sales resource allocations and pricing. However, I have a long history of being skeptical toward tying sales incentives to the "net profit" these models derive. Read now.