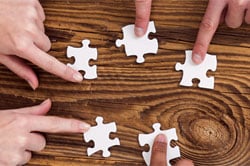 When the ball drops, and 2019 flips to 2020, will you have closed some of the gap between you and your most innovative distributor competitors, or will that gap have widened so far you can no longer cross it?
Take action now to ensure your distribution company stays relevant with a sustainable plan to address the following five areas of your business:
How are you using your most expensive resource?
If your outside sales reps are spending most of their time writing quotes, providing product information, managing returns, and handling supplier issues, you're squandering your most expensive resource. A market-based sales model that incorporates specialized roles and digital tools is far more efficient and effective, but to do that, you must realign your financial and sales resources to each customer segment's needs, preferences and growth potential.
Read more: A Lesson in Role Specialization from Your Doctor's Office
Is your sales compensation program helping you meet company objectives?
Most distribution sales compensation programs either provide insufficient rewards for helping to meet company objectives or over-compensate for the wrong results. Either of these mistakes erodes distributor profits. Distributors also need to consider the compensation expectations of Millennials and Gen Z. While there are no universally best sales comp programs, there are questions distributors can ask to determine the best program for them.
Read more: 3 Questions to Ask Before Changing Your Sales Compensation Plan
How does your branding help you build loyal, more profitable customers?
Few companies can clearly define what branding is or explain why it's important to have a branding strategy. Distributors need a simple, team-oriented approach to brand consistency that builds loyal, more profitable customers. This goes beyond a well-designed logo. Branding is created through the actions and interactions of every department, operation and employee in your business.
Read more: What Makes a Brand in B2B?
How are you adapting your channel strategy to meet customers' changing demands?
Big changes are coming to the way end-users shop and buy, but the digital question is not black and white. It's not just about ecommerce. Don't think about digital as a way to replace people; think about it as a way to enhance relationships. The more compelling case for making the transition is in how it can help you cut SG&A expenses and convert one-time customers into repeat business.
Read more: When It Comes to Digital, Don't Be the Monkey Holding Onto the Mango
Is your organization afraid of change?
The biggest obstacle to moving forward on a plan to compete in today's multichannel world and meet rapidly changing customer demands is not usually technology. It's an organization's fear of change and inability to build an innovative culture.
Read more: The No. 1 Reason Distributors Fail to Make the Digital Transition