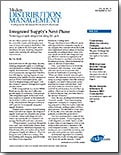 Indian River Consulting Group's Mike Marks was recently featured in an article from Modern Distribution Management, Integrated Supply's Next Phase, by Associate Editor Eric Smith.
The article, which looked at how technology and the increased use of data is changing the face of integrated supply (also known as storeroom management and supply chain services), looks at how integrated supply is experiencing a new phase of maturity.
Marks tells MDM that integrated supply is moving into the next phase of its lifestyle in part because of the data available at the point of consumption is better, helping distributors understand future demand.
Access the full article from Modern Distribution Management here.