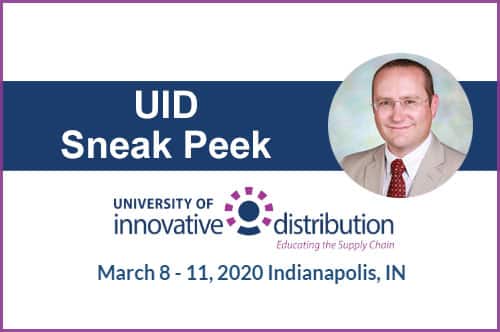 Indian River Consulting Group is proud that of the 56 sessions offered at the University of Innovative Distribution in 2020 that we were chosen to lead eight. We are the only firm with multiple instructors in the program. Partner Abe Walton will teach about leading with innovation, as well as how to increase engagement across different generations of employees.
In this Q&A, he provides a preview:
Why are you excited to present at UID?
I'm excited to be one of four IRCG instructors at this year's UID event. It's a compliment to be representing IRCG at a program with a reputation for worldwide excellence and impact.
Talk a little about your course, Leading for Innovation.
This course will lead students through concepts centered on the art and science of innovation, with action items geared toward meeting customer needs. We'll walk through methods such as how to look ahead for the long term, define a course of action using the right tools and data, and establish metrics to measure your success as you innovate to drive return on investment.
You're also teaching a course on increasing engagement, especially across generational divides. What will this entail?
Authentic leadership is a must for building a motivated and engaged workforce. It's also essential for understanding how generational differences impact one's approach to work. These days, leaders need to move beyond a surface level of generational understanding, and instead build bridges between the differences in communication and decision-making styles, training and development needs, conflict-resolution styles, and overall job expectations. In the course, I'll introduce intergenerational selection and management techniques like succession planning, mentoring programs and using behaviorally anchored rating scales and interview questions.
What do you hope attendees will take away from the sessions?
I hope people will grasp how leading for innovation can involve actionable, methodical steps using real data and tools. In other words, innovation can be accessible with the right approach. In terms of generational knowledge, I hope that people see how authentic and effective intergenerational leadership can increase workplace engagement and even create a competitive advantage by fostering of a culture of inclusiveness and collaboration.