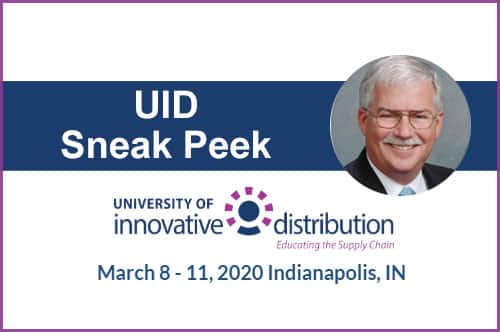 Indian River Consulting Group Managing Partner Mike Marks is one of the permanent faculty members at the University of Innovative Distribution (UID). He helps define and lead courses in operations, executive management, sales, marketing and more. The program is tailored to wholesale distributors and manufacturers selling through wholesale distribution, and focused on developing actionable plans.
Mike is presenting three sessions at the 2020 event:
Emerging Trends in Supply Chain Management
Big Data Analytics for Wholesaler-Distributors
Distribution in a Post-Amazon World
In this interview, Mike shares what he's looking forward to at this year's UID.
Why are you excited to present at UID?
Ever since UID started at the University of Alabama-Birmingham, UID has been described as getting an MBA in distribution in a single week. The thing I'm excited most about this year is we've made a big upgrade to the entire program. We've upgraded a lot of the staff, probably 20% change from last year. There's more focus on technology and social media than in the past. There are 56 courses, and we're the only firm that will have four different instructors present. That's a big compliment.
Tell us a bit about your course, "Big Data Analytics for the Wholesale-Distributor."
This course is focused on practical examples and useful models to improve decision making with big data for today's distributor. Most distributors are in an echo chamber. Nobody has any data to make decisions. When we talk about analytics, it's not about buying, but making better decisions. Part of this is simply making the most of existing software. Most distributors have an ERP package to do invoicing and check stock. But most users are only using 25% of their ERP capabilities. In this course, I encourage distributors to find the area where they are most challenged, such as low margins, and I help them come up with ways to use data and analytics to make better decisions.
Technology is going to be a big part of this year's program. You're also teaching a course on "Distribution in a Post-Amazon World."
Yes. Digital is everywhere. And most distributors think they need to look like Amazon. Yet, we are still analog beings living in an ever-increasing digital world. Don't try to out-Amazon Amazon. Rather, learn to play the digital game in your own industry, and find out how to build a B2B technology strategy that will bring you to the top of your game — which is much different than beating Amazon.
Finally, you'll be teaching about innovations in supply chain management. What can students expect from this course?
Supply chain has always been an analytical process, not a sales process. This workshop will look at the concepts of value and price, and how negotiation can cloud real data. After all, the customer usually wants the best supplier's item at worst supplier's price. This course will put the data on the table, remove the inefficiencies from the channel, and seek ways to reduce waste while still getting the customer a great price.