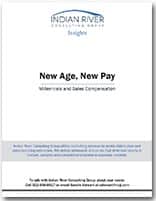 Distributors are facing challenges recruiting Millennial field sales representatives not because of the total pay being offered, but because the fixed portion of the sales compensation package being offered has been too low.
The traditional view was that successful field sales reps needed enough confidence to have some skin in the game, and that wanting a higher salary was a red flag. But it's time to question this old way of thinking.
We're at a generational inflection point, when the traditional methods used to pay field sales reps are not perceived very positively. But it is possible for distributors to adopt sales compensation programs that appeal to this growing group without losing the virtues of historically effective programs.
Read more about meeting Millennials' compensation needs in this article I recently wrote and published: New Age, New Pay – Millennials and Sales Compensation
Learn more about IRCG's sales compensation services for wholesaler-distributors.